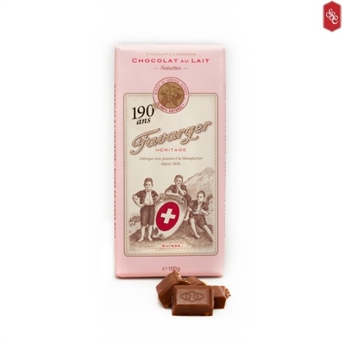 FAVARGER HERITAGE CHOCOLAT AU LAIT NOISETTES / MILK HAZELNUT BAR
Chocolate de leche con nueces en barra de 100gr.
Enhanced with pieces of hazelnuts roasted and calibrated at the manufacture, this milk chocolate made in the purest Favarger tradition evokes the sweet teatime treats of our grandmothers. The hazelnuts add a slightly crunchy texture to this chocolate with a delightful hint of caramel guaranteed to appeal to children. Cocoa content: 38 %.
Milk chocolate with hazelnuts. Ingredients: raw cane sugar, cocoa butter, whole milk powder, cocoa mass, hazelnut splinters (10 %). May contain traces of almonds, pistachios and walnuts. Cocoa: 38 % minimum. Milk solids: 21 % minimum.
Precio: $4.50
Por favor, haz las siguientes correcciones:
Por favor, haz las siguientes correcciones: